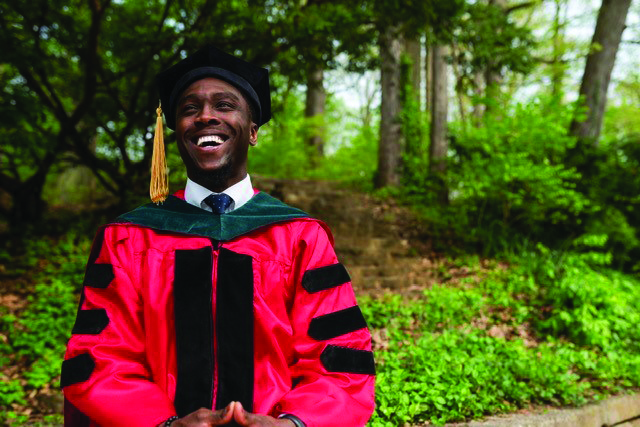 Each year, we are inspired and humbled by those who, with the partnership of Boys Hope Girls Hope, achieve a dream and continue to set new goals. We don't try to take credit for our scholars' successes. We're just grateful to say Boys Hope Girls Hope is a part of their lifetime journeys. Daniel Braswell, who received his clinical doctorate degree in Physical Therapy in 2019, is an alumnus of Boys Hope Girls Hope of Cincinnati, and an inspiration to us all.
"This is for my ancestors who dreamt of freedom while they worked the thick red earth beneath a scorching Georgia sun. This is for my Grandma Mattie, my biggest fan, the strongest woman I've ever known, and one of my greatest inspirations. This is for my family who've encouraged me to take advantage of a formal education because they remember marching in the South when they didn't have an opportunity to earn one.
This is for that professor who told me eight years ago that I wasn't smart enough to earn a bachelor's degree. This is for the countless hours of homework, sleepless nights, and morning delirium all as part of the daily grind. This is for every job I've had to make ends meet so I could remain in school.
This is for pushing myself to achieve in the midst of fighting hell to maintain mental health. This is for the time I've spent losing that constant battle. This is for the naiveté in thinking my strength was the solution to every problem and for the moments I tested whether my body or mind would break first. This is for those who've loved broken pieces of me when that's all I had to give. This is for the introspection, vulnerability, self-love, and growth needed to overcome destination happiness and to enjoy the present.
This is for the brothers I gained in Boys Hope Girls Hope who've enraged me and given me the best full-bodied laughs I could ever have. This is for the brothers I've lost to gun violence and those fighting a steep uphill battle against poverty. This is for the village of people of all colors and creeds who thought I was worthwhile and invested tremendously into seeing me thrive. This is for Dr. Robert Heidt who opened doors to my career in health care. This is for the young boy or girl to whom I'll pay it forward some day.
This is for knowing my worth, having a vision and unyielding effort toward creating a life that I deserve. This is me assigning a reason to all of my trials and triumphs. This is for every rose that grows from concrete."
As written for his Facebook friends and used with permission by Daniel Braswell, PT, DPT, CSCS.
Daniel's story was featured in the Boys Hope Girls Hope 2019 Yearbook! Click the link to see the full yearbook and where our 139 2019 graduates are attending college!!